Professional keyboard fetishist and comedy YouTuber Glarses has stuck it to Razer and built his own six-foot fully mechanical keyboard. Apparently, Razer turned him down when he offered to buy their own 64x scale keyboard from the 2018 CES show.
His solution? Build his own. Not only that but do it bigger and do it better. The Razer keyboard was a TKL board without a number pad and 87 key switches. Glarses therefore decided to go for a full layout and 110 switches.
He also wanted the best possible key action, so decided to lube all the keys. Unfortunately, it took 10 minutes just to get the first key apart. Ouch.
At the heart of this custom build is Novelkeys 64x scale mechanical MX-style switches, the same ones used by Razer for their big 'board. The rest of the build was done using largely custom 3D-printed parts, plus a huge machined aluminum case and chassis in three modular pieces.
The stabilizers for the space key were also 3D printed and the space key itself is bigger than many actual keyboards all on its own. Time was tight, so many most of the parts were ordered without a test print run, leading to a lot of hand tuning and dremeling to get everything to fit.
Some miscalculations involving the spring strength for the keyboard switch also ensued, plus a last-minute Covid-induced rush forcing Glarses and two friends to do the final assembly in just 24 hours and mad 30 minute dash to hot glue all the key caps on.
If you're wondering about the cost, it all came to £12,000 or just under $15,000. Wowsers. But you can't put a price on keyboard joy on such a huge scale.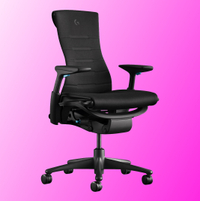 Best chair for gaming: the top gaming chairs around
Best gaming desk: the ultimate PC podiums
Best PC controller: sit back, relax, and get your game on