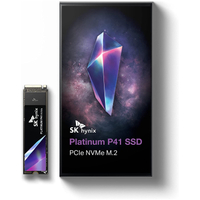 SK Hynix Platinum P41 | 1TB | NVMe | PCIe 4.0 | 7,000MB/s read | 6,500MB/s write | $104.99 at Amazon
This Gen4 SK Hynix drive is just as quick as the 2TB version, and is a great buy even without a discount. You get the highest performance write SSD at 1TB, and although the WD SN850X will generally be cheaper, this one nails raw SSD performance.
---
Stop that, it's silly. We already had the SK Hynix Platinum P41 1TB in our best SSD deals guide. It looked great at just under $150. But now it's almost ridiculously cheap for $104.99 from Amazon.
Granted, SSDs have gotten way cheaper of late, partly as a consequence of the production of flash memory chips being ramped up in response to spiking demand for all kinds of computing hardware during the work-from-home pandemic era that has since evaporated along with even less demand thanks to a broader economic dip.
But even taking all that into account, a premium spec 1TB PCIe Gen 4 drive for just $105? If we didn't know better, we'd think SK Hynix was trying to get shot of a load of eponymously branded drives before shifting the emphasis to its new "Solidigm" retail branding.
Whatever, this is absolutely a quality, high performance Gen 4 drive which earned our coveted Editor's Pick award in 2TB format. We haven't tested this specific 1TB model, but it sports exactly the same sequential and IOPS performance specs as the 2TB. So, it's likely to be pretty much as quick.
Indeed, this 1TB is so aggressively priced, you barely need to think about going for a cheapo drive with no DRAM cache or using—yuck—horrible QLC rather than nice, speedy TLC flash chips.
Anyway, we'd jump on this one. It surely cannot last.