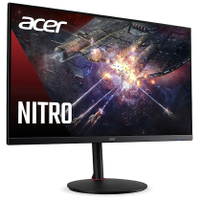 Acer Nitro XV322QK | 31.5-inch |144Hz | 4K | IPS | $699.99 $489.99 at Newegg (save $210)
Checking all the boxes for a big-screen gaming monitor, this 4K Acer panel has a high refresh rate, the IPS tech tick, and an acceptable price tag. At its original $700, this could not have been a recommendation, but for $500, it's about right. PROMO CODE SSCP2232
Newegg has a pretty good deal on a speedy 32-inch Acer Nitro high refresh rate 4K gaming monitor for only $490 (with promo code). If there's one thing PC gamers know about 4K gaming is that it's not cheap, so anytime I see a good 4K gaming monitor on sale, it tingles my deal sense.
The Acer Nitro XV322QK was a pretty decent deal for a 4K gaming monitor with a 144Hz refresh rate IPS panel, even when it cost $700 last year. It recently dropped to $600 in January and has now dropped to its lowest price ever at $490. Use promo code SSCP2232 to apply the $10 coupon. Hey, every bit helps.
At $490, it now becomes one of the best cheap gaming monitor deals we've seen all month on a 4K display. There was no way I could have recommended it at its launch price of $1100. But at this price, it's a more practical pick, and it's everything I want in a sizable 4K gaming monitor. A 144Hz refresh rate with a response time of 1 ms and support for AMD Freesync Premium will pair nicely with one of those fancy AMD GPUs like the RX 7900XTX which thrives at 4K gaming.
If you own a PS5 or Xbox Series X, there are two HDMI 2.1 ports to plug your console into for 120Hz gaming at 4K. It also has four USB 3.0 ports because there's no such thing as too many ports on a monitor.
The one thing I'm not crazy about is the stand supporting the monitor. It seems pretty unsturdy, but I like that there is a hook for wrangling cables. It's not much, but honestly, any cable management option is better than no cable management options. With the money you save, I'd mount this on your desk and save the desk real estate for Geralt Funko Pops. (Other PC Gamer editors do not endorse using spare cash for Funko Pops.)
And now, the bad part. The sale on Newegg ends at the end of Wednesday. Amazon is also selling the screen for $500, but you're looking at a pretty long lead time of one to two months before you can get it shipped from Amazon, whereas Newegg has it in stock right now. So I suggest you move fast on this one.