Last week, the UK's Competition and Markets Authority announced that it is launching a review of artificial intelligence models to ensure that "AI continues in a way that benefits consumers, businesses, and the UK economy."
That is of course the same CMA that blocked Microsoft's $69 billion Activision acquisition just two weeks ago. It's now looking to conduct an assessment that will "best guide the development of foundation models and their use in the future." The regulatory body says its review will focus on the effects of the development of AI foundation models (aka AI like GPT-3 or DALL-E 2, which are trained on vast datasets and have multiple uses).
The UK government has asked the regulators to "think about how the innovative development and deployment of AI can be supported against five overarching principles."
Those five principles are:
Safety, security, and robustness
Appropriate transparency and explainability
Fairness
Accountability and governance
Contestability and redress
According to the CMA announcement, the review's focus follows three themes: the development of AI foundation models, the impact those foundation models have on other markets, and consumer protection. You can see its plans laid out in more detail here.
In a press release, Sarah Cardell, Chief Executive of the CMA, says AI "has the potential to transform the way businesses compete as well as drive substantial economic growth." She stressed that AI technology should remain readily accessible to UK citizens and businesses while still protecting them from "false and misleading information."
The CMA is seeking evidence from stakeholders and asking for submissions from "interested parties" by June 2. The CMA will publish a report of its findings in September. The result of these reports will likely affect any future legislation on AI technologies being developed and deployed in the United Kingdom.
We've launched an initial review of artificial intelligence models: https://t.co/zy4GE1W8CE pic.twitter.com/Qo3Me28wl8May 4, 2023
See more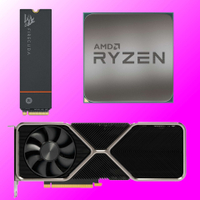 Best CPU for gaming: Top chips from Intel and AMD
Best gaming motherboard: The right boards
Best graphics card: Your perfect pixel-pusher awaits Best SSD for gaming: Get into the game first