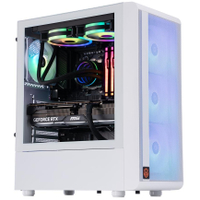 ABS Stratos Ruby | Ryzen 7 7700X | Nvidia RTX 4080 | 32GB DDR5 RAM | 2TB PCIe SSD | $2,699.99 $2,549.99 at Newegg (save $150)
A pretty immense spec here for the price. That AMD CPU can hit 5.15GHz under load and paired with the RTX 4080 and you'll experience some real GeForce. Not much room for overclocking with that 750W PSU, but with 2TB of NVMe storage and 32GB of DDR5 RAM means you won't need to upgrade for a good while.
Nvidia's 40-series graphics cards are beginning to make their way into decently-priced pre-built gaming PCs. By that I mean you can pick up this smartly spec'd RTX 4080 gaming PC for $2,550, which is still a lot of money, but is notably a lot less than the $3,000+ early-bird machines we were seeing all too much of at launch.
A high-end PC in 2023 is a big investment—if you want top performance you have to be prepared to pay for it. Luckily, there are some clever ways to shave some cash off the grand total for a pre-built machine without sacrificing performance. That's what I like about this ABS Stratos PC over at Newegg, it's not needlessly overkill.
Take the CPU, for example. This machine comes with AMD's excellent Ryzen 7 7700X, an eight-core/16-thread CPU with an eco-mode that's actually worth a damn.
In the words of our Ryzen 7 7700X review, "the Ryzen 7 7700X is arguably one of the best gaming chips. It keeps pace with the Ryzen 9 7950X, and massively outperforms the old Ryzen 9 5950X when it comes to gaming frame rates. That 5.55GHz single-core clock speed is really doing the work there."
Its efficiency is superb, too, and that's a good thing considering this ABS PC's 750W power supply. That's right on what's required as a minimum to run an RTX 4080, and you'd probably want a more powerful power supply with a higher-end chip, especially one of Intel's 13th Gen.
Of course you still have an extremely high-end graphics card in this machine, Nvidia's RTX 4080. That's a card we liked for its performance but didn't love for its large price tag. It's a great fit for 4K and 1440p gaming, however, and DLSS 3's Frame Generation is mind-bogglingly good at what it does—taking a game's rendered frames and adding new ones that are entirely generated by AI.
You wouldn't get far with just a GPU or CPU alone, however, and this build brings lots of RAM and storage space to round it off. There's 2TB of NVMe storage loaded into this machine which is really what I'd want out of a PC at this price, and the 32GB of DDR5 is also a match for my expectations. It's not the quickest RAM around at 5,600MHz, however.
The motherboard is fairly back to basics, too, though it's made by a reliable manufacturer in MSI. There are eight USB ports on the I/O, which is pretty middle-of-the-road in terms of USB port count. Seven of which are Type-A, leaving just one as Type-C. Wi-Fi is built-in, anyways, so no need to buy an extra add-in card.
Last month I did spot an RTX 4080 build going for cheaper than this at $2,500, but that was with a last-gen AMD Ryzen 7 5800X, rather than the Zen 4 number included here. There's not much between them for me; both offer something I can rally behind and reviewed well with customers.