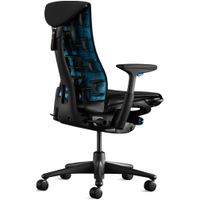 Herman Miller x Logitech G Embody | Adjustable armrests | Polyester upholstery | Ergonomic design | $1,795 $1,356.54 at Herman Miller (save $439.46)
The Embody is one of the comfiest chairs you'll ever sit in. It's also likely one of the most expensive chairs you'll ever sit in. It's an investment for sure, but your back, neck, and spine will thank you. These chairs are built to last and have a 12-year warranty if something goes wrong.
Herman Miller is slashing the price of its uber-premium gaming chair, the Embody, down to a cool $1,356, thanks to a couple of promo codes on their website. We've only seen it this cheap during Black Friday when it was a few bucks less than what it's being sold for now.
The Herman Miller x Logitech G Embody is similar design-wise to the classic Embody but with a few significant differences: The Logitech G branding, light blue accenting on the back of the chair, and an extra foam layer in the seat that provides additional tushy cooling. Sadly, there is no LED lighting built into this bad boy.
The main reason you'll want to drop the big bucks on this chair is because it's aggressively comfortable, no matter how you sit on it. In our review, we praised its ergonomics and comfort. It's perfect if you need to spend long periods on your butt: The back of the chair offers extra support for your lower back and spine without the need for a lumbar or neck pillow. The only real criticism we had with the chair (aside from the price) is that the armrests offer surprisingly limited movement.
The best part is that the chair comes fully assembled out of the box. There are no tools, screws, or other loose parts. As someone who's put together his fair share of weird gaming seats, I'd gladly pay a premium for a preassembled chair without hesitation.
Like other pieces of premium furniture, these things are built to last, and chances are, if you spring for an Embody, it will most likely be the last chair you'll ever buy. For peace of mind, Herman Miller chairs have a 12-year warranty for "virtually everything, including electrical components, casters, pneumatic cylinders, tilts, and all moving mechanisms."
While a 25% discount is really good for high-end gaming chairs, especially one of our best gaming chairs, you're still spending around what you'd pay for a brand-new gaming PC. The Embody really is still an excellent chair, though, so any discount is appreciated.
If you don't have a $1,300 gaming chair budget, SecretLab is running a promo on the Secretlab Titan Evo, aka the best chair of 2022, for $519. Keep in mind that the Titan Evo only comes with a 3-year warranty.