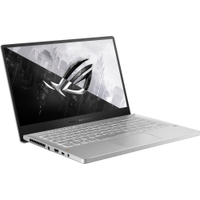 Asus ROG Zephyrus G14 | AMD Radeon RX 6700S | AMD Ryzen 9 6900HS | 14-inch | 2560 x 1600 | 120Hz | 16GB RAM | 1TB SSD | $1,649.99 $1,099.99 at Best Buy (save $550)
If you don't want a hulking gaming laptop, let me introduce the Zephyrus G14: a 14-incher with DDR5 memory and a nice bulk of storage. No-nonsense specs in a delightful package, and coming in with a tasty saving.
There's one model of gaming laptop I've recommended to a couple of friends, and that's the Asus Zephyrus G14. I tested one out for myself back in March 2022 for our Asus ROG Zephyrus G14 review and while that high-end specification wasn't to my liking, everything else about that laptop very much was. I mentioned then that if Asus stuck a scaled-back GPU into the thing for a sub-$2,000, I'd be all over it.
That's exactly what's on offer over at Best Buy right now. An Asus ROG Zephyrus G14 for just $1,100, with an AMD Radeon RX 6700S GPU inside.
If I lived in the US, I'd happily splash out on this laptop myself. That's a superb price for this sort of specification and one that's hard to walk away from. Alas, I live in the UK, so I can merely highlight it for you lot to benefit from.
There's a laundry list of things I like about this laptop. Let's start with the all-mighty screen, a 120Hz panel with a 2560 x 1600 resolution. Yep, that means it's a 16:10 aspect ratio, which gobbles up some bezel space for even more room on the desktop. Squished into the remaining bezel surrounding the screen is a 720p webcam. Handy if you want to use this laptop for work and play.
The laptop's chassis is also pretty sleek. The design is up-to-date, unlike some other laptops on the market that feel a bit more dated, and though it's pretty much all plastic it feels plenty sturdy. It's easy enough to get under the hood by removing the back panel, which means upgrading the RAM or SSD isn't too difficult to do. Just bear in mind that half the RAM sticks are actually soldered onto the board, but there's still one removeable DIMM slot in there. In this configuration you're getting 16GB of the latest DDR5-4800 memory, which will absolutely suffice for most use cases. There's also a 1TB SSD, which is pretty good going but a couple of terabytes would be a tasty upgrade.
Right, let's talk about the silicon, because this laptop has some pretty up-to-date and powerful parts inside it worth talking about. The CPU is AMD's Ryzen 9 6900HS, an eight-core/16-thread CPU that'll boost up to an impressive 4.9GHz. That's the same chip as in the G14 model I reviewed, which showed itself great for single-threaded performance (important for frame rate) and impressively capable for multithreaded work, too.
Image 1 of 4
The GPU in this machine is AMD's Radeon RX 6700S, which comes with 8GB of GDDR6 memory. It offers four fewer Compute Units than the RX 6800S in the G14 I reviewed, which does hit gaming performance, but the laptop is all that much cheaper for it. The good thing is the RX 6700S is slightly less power hungry than its bigger sibling, at 100W, and ultimately still has the performance to feed the 120Hz screen at its native resolution. Though you can also get a bit more performance by playing in a 16:9 aspect ratio to lower the demands on your GPU—the resulting black bars aren't so bad.
Generally, though, this is a really great gaming laptop that I've come to appreciate more and more with every new sale price. At $1,100, it's something of a steal, especially compared to the newer RTX 40-series gaming laptops that have arrived lately.