Remember that characteristically quirky Asrock motherboard that transmogrified from an AMD B650 board into an X670? Well, Asus has got something similar going on with its new ROG X670E-I board. It has a chipset on a PCIe stick.
How so? Well, this all hinges on the fact that AMD's B650 chipset uses a single chip, known as Promontory 21, whereas the premium X670 chipset houses two Promontory 21 chips daisy-chained together.
It's basically a more cost effective way of adding features and connectivity compared with taping out two different chips or going with a single larger chip and switching off various features for the lower-end implementation.
Anywho, whereas the Asrock board was all about quirky for the sake of quirky, the Asus item is a function of more practical concerns. The Asus ROG X670E-I is one of those puny Mini-ITX models which poses a challenge for laying out a dual-chip chipset.
So, as Tom's Hardware explains, Asus has whacked the second Promontory 21 chip on a PCIe 4.0 x4 add-on card. The net result is an extra two USB 4 Type-C ports with a 40 Gbps throughput as well as DisplayPort support, a Wi-Fi 6E + Bluetooth 5.2 adapter, a 2.5GbE controller, and multiple further USB ports.
The Asus ROG Strix X670E-I board also sports two M.2 slots, one in PCIe 5 spec the other PCIe 4, a couple of SATA ports (via another included add-on card), two further USB4 Type-C connectors, one USB 3.2 Gen2 Type-C port, six USB 3.2 Gen 1 Type-C connectors, and five USB 2.0 ports.
Plus you get 2.5GbE and high quality audio courtesy of the Realtek ALC4050 codec and ESS Sabre 9260Q DAC.
Broadly speaking, these add-in chipset cards require specific UEFI support. So, you can't just whack them into any AMD AM5 motherboard that already has a Promontory 21 chip and expect anything good to happen.
But as these modular motherboards emerge it at least seems like AMD's dual-chip approach is giving motherboard makers plenty of options.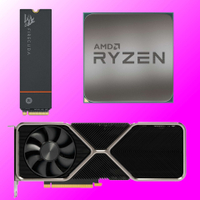 Best CPU for gaming: Top chips from Intel and AMD
Best gaming motherboard: The right boards
Best graphics card: Your perfect pixel-pusher awaits Best SSD for gaming: Get into the game first