Fortnite creative codes lead to so much more then just some cheap Minecraft knock-offs. With new biomes, structures, creative tools, and Fortnite island codes releasing every few days, Creative is a block-filled sandbox with endless hours of potential fun.
We have a lot of cool Fortnite Creative codes gathered below, each leading to a builder's masterwork. They're the kinds of creations we once dreamed about building out of Lego bricks. But let's be real: When you want to build big, Lego's for the rich. In Fortnite, the sky's the limit.
Plenty of talented creators have earned Epic's blessing to have their creations shared and played by anyone, so long as you know the Fortnite Creative codes required to head to their islands. We've sifted through the growing collection of codes to find the best, and we continuously update this page.
More Fortnite guides
Fortnite Chapter 3 Season 2: Everything we know
Best Fortnite skins: Finest virtual threads
Fortnite Creative codes: Best custom maps
Fortnite on iOS: How to play Fortnite on GeForce Now
Fortnite Toys: The best NERF guns, action figures, and more
Below are our current favorite Fortnite Creative Codes. Also check out our Fortnite deathrun codes list for the best challenge courses.
To load an island, head into Fortnite Creative, walk up to a featured rift, and hold down the 'Use' key to bring up the code menu. Pop a code in, let the island load, then walk into the rift to begin. Or use the "discover" tab in the Creative menu to load straight into a map from the main menu.
The best Fortnite creative codes right now
MakaMakes' Mini BR Solo City – 8566-1472-7195
Fall Guys Fortnite – 3958-4575-1075
X-Run by X-Labo – 8660-5683-2097
Counter-Strike Dust 2 Map – 9908-4675-7557
Battle for Zion FFA – 8652-4690-9655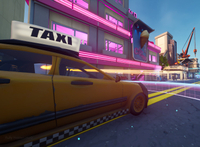 Escort the Payload: Taxi – 9441-6755-2529
An honest-to-god escort mode in Fortnite. If you've ever played TF2 or Overwatch, you'll be familiar with the idea behind this. Push the payload (in this case, a simple taxi) to the end of the map by staying in the circle around it, all while attacking or defending your position from the other team. Power ups like super speed help keep things spicy.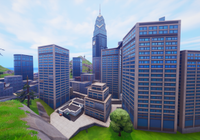 Hordenite – 9757-2182-9827
An open-world map with lots of missions to complete, gear to upgrade, and endless zombies to create some harrowing runs into the city at your doorstep. Best played with a few friends.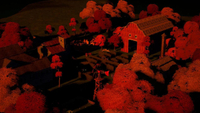 Dead by Fortnite: Farm: 9881-8698-8239
The classic Dead by Daylight formula transplanted to Fortnite. Players must activate five generators scattered around this eerie farmstead, all while the killer tries to hunt them down.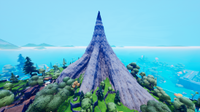 Fortlite episode 2 season 3 – 2225-6002-6115
An ongoing battle royale map project, and frankly one of the best out there. I forget how many times this map has been updated, but it always hosts a huge batch of POIs, plenty of loot, and plenty of verticality for those who love spicy build fights.
Clash of Hearts – 6097-4145-5803
A classic capture-the-flag map with lots of sparkly decorations, 30 to 50 wild hogs, and zombies.
Home Alone House Prop Hunt – 1468-8833-8480
Kevin McAllister may have traps, but we have a ray gun that transforms us into (almost) anything. This recreation of the iconic Home Alone house includes all the spots you remember so fondly, like the obnoxiously large kitchen, the chaotic foyer, and Kevin's room of exile upstairs. Winnetka, Illinois never looked so good.
Summer House Prop Hunt – 9333-9129-4841
The only thing better than summer is going to that one rich friend's house who looks like he belongs in the home from Parasite. This summer home has all the perfect trappings for a good prop hunt map: Lots of big and small objects to mimic, multiple areas to scour, and an entertaining backdrop.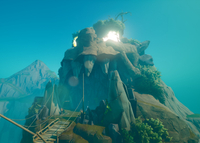 The Evil Curse – 3302-0331-8813
Venture deep into a cursed cave full of puzzles, murderous foes, and tons of different biomes. If you're in the mood for a longer co-op adventure to tackle with a friend, you can't go wrong here.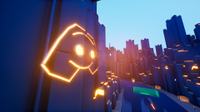 GO! Racing Map – 6669-5746-4417
One of the most visually pleasing racing maps I've seen in a long time. It looks like the cyberpunk city of your dreams, and it even changes color as you drive along the track.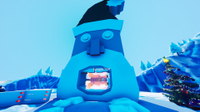 Hungry Hungry Santas – 8755-1550-7937
It's Hungry Hungry Hippos, but with a jolly old fat guy instead of wild animals. Race to the center of the map, dodging killer laser walls, pick up a giant snowball, race back to your Santa, and toss it into his gullet to rack up points. This will make for intense fights among friends.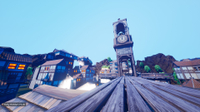 Gun Game Quest – 8402-5347-6470
A gorgeous gun game map for 32 players, with the ability to save progress as you go along and unlock more weapons. I love jumping down into the battlefield and gliding in rather than just spawning on one side.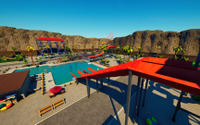 Waterpark Hide n' Seek – 9782-5046-3522
Ah, waterparks. The source of many fond and occasionally traumatic childhood memories. Whether you were the kid going hard in the wave pool or afraid to tread the lazy river, this hide and seek map provides plenty of interesting spots to elude capture.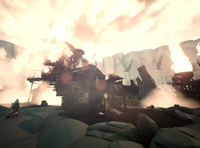 Hyde's Frozen Steampunk CTF/Gunfight – 6088-8160-1390
An expansive map that smartly uses fog and smoke (or is it steam?) effects to blur your vision, creating tense moments of close-quarters combat.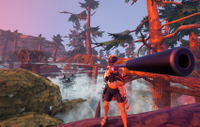 It's In the Trees Sniper Fight – 6890-4849-6730
Like the Predator himself, take to the treetop canopies and snipe away your opponent from afar. If the bullets whizzing by don't get you, the fall will.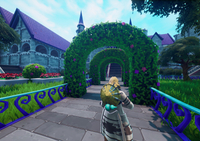 Angels vs. Demons TDM – 3791-8602-1307
A verdant castle courtyard plays host to a battle between the forces of good and evil. Some awesome color filters turn your screen from picturesque blue to menacing red or vice versa when you cross into enemy territory.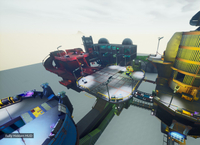 Skyward (Halo 2 Lockout) – 1721-8397-9024
A fan recreation of the Halo 2 map, with plenty of ways to fall to your death, or narrowly skirt around a ledge for the perfect flank. There's even a Sideways Scythe in there to recreate a dazzling energy sword kill.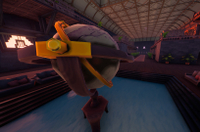 Quiet in the Library – 2092-3454-7945
A giant library, countless bookshelves, couches, and suits of armor, and dozens of perfect sightlines for sniping your opponen@`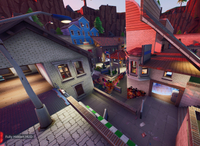 Ally Way Domination – 7100-8726-0181
Three layers of densely woven city alleyways, three capture points, and a million ways to clamber around and get the perfect drop on the enemy team.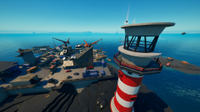 Middle of the Ocean Gun Game – 2735-3949-5100
My bar for gun game maps is pretty high, but I always love anything that feels like a smartly designed deathmatch map you'd see in Call of Duty or any other major shooter. This ocean-bound warehouse island features a long incline, a beautiful lighthouse, and lots of grappling guns to help you swing around both cranes.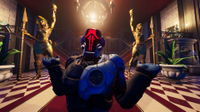 Holly Hotel: Frozen Valley – 1396-5744-7290
A mysterious hotel sits atop a freezing mountain. Is that Jack Nicholson? No, it's Jonesy. Solve a series of increasingly weird puzzles while journeying through the hotel from hell. Johnny Carson jokes not included.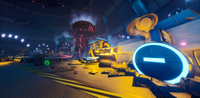 Battle for Zion FFA – 8652-4690-9655
A fantastically designed reproduction of the final battle from the Matrix trilogy, as the machines swarm upon humanity and their legion of badass mech suits.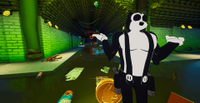 Underground Prop Hunt – 5096-3680-4876
What better place for a prop hunt than a sewer system filled with garbage? Whether it's the murky tunnels or the cluttered control stations, this is a great option for lovers of quick, merciless prop hunt sessions.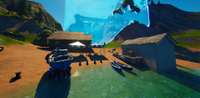 Zone Wars: Catch – 5075-5123-5617
It's zone wars, but with nothing but throwable items, and a lot of them. Sticky grenades, stink grenades, trip mines, storm grenades, fireworks, and much more.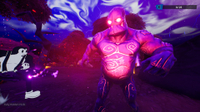 Alienite Gun Game – 5294-1982-1229
A great gun game map, but with all alien weapons from Chapter 2, and plenty of zombies running around to distract you. I love how dense and torn apart this map feels, perfect for the apocalyptic vibes.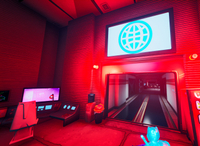 NSL Complex Gun Game – 8881-6432-2909
A tight and winding gun game map with a few surprises, like the ability to turn the lights off and fight in the dark.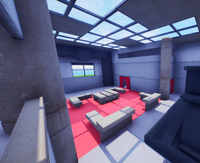 Pro 2v2 Gunfight Duos – 0992-3588-4311
A tantalizingly simple map that bears more than a passing resemblance to Modern Warfare's 2v2 gunfight maps. Not only are you fighting to outlast opponents, you'll periodically need to capture a control point.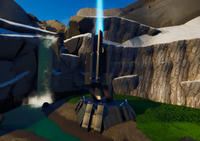 Halo Valhalla – 9974-3950-0070
Hey, it's that one Halo map you love, but in Fortnite. Fight over two Forerunner towers at either end of a gulch (but not a Blood Gulch) with airplanes, trucks (subbing in for Warthogs), and a ton of weapon options.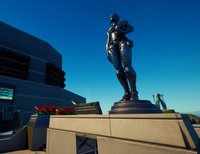 Halo Headlong – 2349-0809-4438
Hey, it's that other Halo map you really like from Halo 2 and 5. While it's a recreation, it's a really well done recreation, including a ton of weapon spawn points, countless flanking routes, and a great level of verticality that keeps it from feeling like so many other flat maps.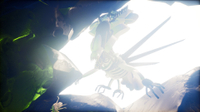 Alien Lockdown – 2446-7814-4429
A creepy multiplayer map with some incredible sound design going on. Some players start as survivors, others start as xenomorphs and try to convert players into monsters.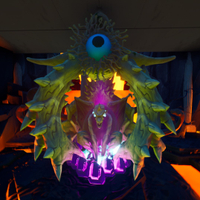 Toxicity's PvP Boxfight – 2246-4311-3783
The best boxfight maps throw you into a visually stunning world for quick and easy deathmatches. This one transports you to a hellish landscape full of eldritch horrors, ancient Aztec statues, and two giant teddy bears watching you suffer.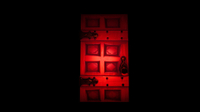 Evil Awaits: The End – 0387-3560-2947
One of the best horror adventures in Fortnite Creative mode to date. Use of a first-person camera, excellent lighting, and some solid jump scares elevates this romp from schlock to scare very quickly. You play an office worker after moving to a new town. Things are appropriately dull until both your work and your home life start being plagued by visions of demons and ghosts.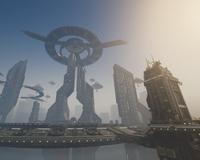 Star Landing (Artistic) – 2834-0959-4217
Though it's not a "playable" map, you can still gawk at this gorgeously sci-fi cityscape from afar, if only to remind yourself how bonkers Creative mode is. I'm particularly fond of how creator Legendary Qi/LCQ used buildings in the far back to create an even deeper sense of scale.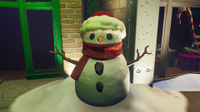 Holiday Rush Obstacle Course – 7485-7586-4772
Christmas shopping is always a hassle, especially if dozens of pickup trucks are barreling down on you in the parking lot between Walmart and GameStop. This map puts you at the bottom of a festively decorated hill while trucks try to crush you. The first to reach the top wins the prestige of being the shrewdest shopper.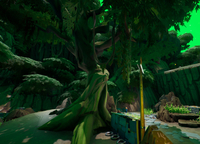 10 v 10 Jungle Domination – 8980-5995-4975
A small and fun circular map with a big honkin' jungle tree in the center, surrounded by rocks and jump pads. Perfect for roundabout domination matches and snaking your way through heavy fire.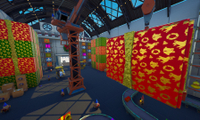 Santa's Toy Factory Gun Game – 1984-5355-2482
Santa doesn't care for OSHA regulations, judging from the suspended presents larger than some houses, cranes, and lengthy conveyor belts. I suppose the guns don't help either.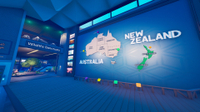 Land Down Under Museum – 4371-6551-3016
Forget gun games and box fights, Creative Mode is also capable of building some neat museums. This map lets you explore four areas that show off Australia and New Zealand's wildlife, including an underwater aquarium. Obviously you're just looking at inanimate objects built to look like animals, but this is perfect for kids who love to learn and read the info plaques at each window.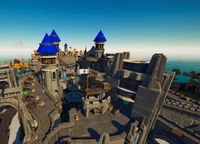 Blue Knight's Keep Gun Game – 7026-5794-6547
A surprisingly dense and cavernous map with lots of places to hide, snipe, and run face first into your enemy's rifle butt. I particularly like the detail in certain rooms, like a lavish feast of healing apples set on a grand dining table.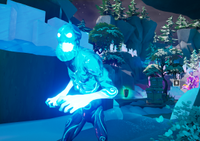 Cold Rush: Zombie Domination – 5273-6907-6465
A tight three-point domination map set in a jagged, lush ice cave. Keeps things interesting by introducing random modifiers every minute, plus occasional swarms of zombies to defend against when you're not shooting human enemies.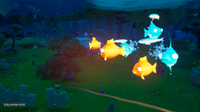 Hidro Farm Gun Game – 9683-1270-3283
This map mimics the physics of being underwater by slowing everything down and reducing gravity. It's a visual treat too, with floating debris, tractors, and groups of fish suspended in midair.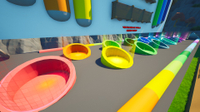 Pixel Painters – 3827-4487-5182
A marvelous translation of your classic "guess the drawing" game in Fortnite. One player dips their character into any color of paint and then draws out their prompt while other players take a stab at guessing it first.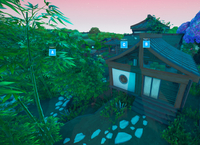 Dojo Domination – Oni Update – 6691-1303-6550
A small update of one of my favorite domination maps. It's still the same lush, densely detailed map, now with storm monsters that spawn randomly.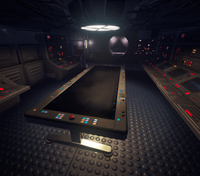 Alien vs Survivors – 5165-6231-8127
Boring title aside, this is a solid recreation of Alien's iconic Nostromo, with dimly lit maintenance hallways, unsettling common areas, and more than a few vents to sneak through. One player hunts for survivors, who are busy running around the ship trying to find keycards, repair computers, and generally GTFO.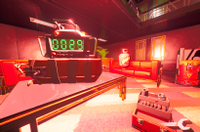 Operation Detonation – 6463-1661-7591
A tight and busy search and destroy map set in an apocalyptic city besieged by cube monsters. The layout of the map is fun, but it's the presence of cube monsters roaming the map that keeps this from feeling like a normal deathmatch.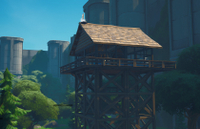 The Last Maze (Escape Game) – 7807-0098-3064
A new escape map inspired by the old Maze Runner book series, which spawned its own minor film trilogy. I never got past the first adventure, but for the time (before survival games became a Netflix genre) it was a pretty engaging setting. This map is a nicely detailed adventure that's a little mysterious and a little daunting. Perfect for a quick escape room experience.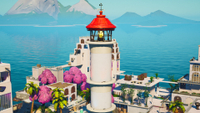 White Stone Island Gun Game – 6450-2600-8048
If you've ever seen one of those Instagram influencers hanging out in the whitewashed stone hills of Greece and thought "damn, that'd make a great deathmatch map," this code is for you.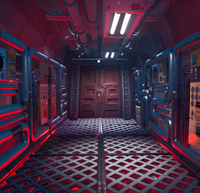 Breakout: Frostbite – 7631-7620-6392
A great zombie wave survival map in the vein of Call of Duty's popular mode. The frigid military installation gives way to a steamy lab and other neat locations, with lots of little secrets and items to discover.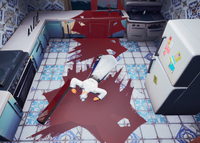 Michael Myers Returns – 1667-9763-2090
An excellent Dead by Daylight-style map pitting one player as infamous slasher Michael Myers against several survivors fleeing for their lives. All the classic Halloween locales are there, including Haddonfield's suburbs, a four-story hospital, a gas station, and more. Survivors also have extra tools like landmines and boomboxes to bamboozle the killer. I particularly love the homages to iconic Halloween kills, like a Fortnite character stabbed up in the air against a wall.
Cathedral of Santiago de Compostela (Zone Wars) – 6359-5458-5318
We've featured this one before, but a new update makes this famous real-world Spanish cathedral even better. This zone wars map lets you roam from one end of the massive churchyard to the other, with an incredible amount of attention paid to recreating minor but important details of a historical and architectural marvel.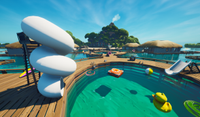 Seashore Resort Gun Game – 1322-5678-1260
A beautiful island resort with private rooms, gorgeous pools, and a mountainside welcome center. The perfect place for murder. Normally I'm not enthused by flat maps, but there's enough of a unique look here, married with the danger of falling into the water, all of which combines for a solid map.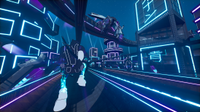 Cyber Stadium – 6199-8972-3700
Imagine a roller derby track, but bathed in neon lights and overlooked by giant metal dinosaur/bird things. Teams race around in an oval hoping to eliminate enemies and capture the flag for their team.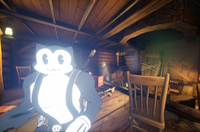 Bendy and the Ink Machine Ch. 1 – 2269-7737-3528
A pretty close adaptation of the cult hit horror game's opening chapter. Explore the innards of an abandoned animation studio that's been warped by something unexplainably evil…and a little sticky.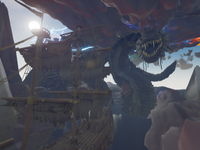 Battle at Sea – 4909-1539-1504
I hesitate to call this "just" an artistic build. Reddit user FiveWalnut8586 created this truly epic battle in the clouds between a classical pirate ship and a towering dragon. I love how the dragon's body wraps around the clouds and nearby mountains, and the bits of lightning and floating lights help sell the idea that this mythical beast is summoning a storm in its terrible wake. An absolute masterpiece.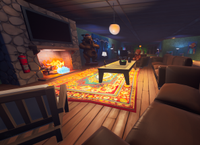 Forest Murder Mystery – 8864-2994-8489
A while back, Fortnite took the popular Among Us murder mystery format (good guys finish tasks while trying to figure out the killer, killer tries to kill without getting caught), and this map transplants it to a remote forest cabin with multiple floors, cozy interiors, creepy exteriors, and even a dance floor.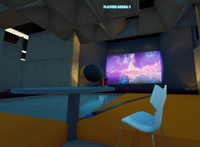 Loki's The TVA Headquarts Hide-and-Seek – 7578-6801-8619
Marvel's Loki show has proven to be a pretty decent time, what with all the Doctor Who-style dimension-hopping and likable characters. This hide-and-seek map works as a recreation of the Time Variance Authority's trippy headquarters, brutalist architecture and all. It especially works as a hide-and-seek map since the TVA is all about bureaucratic conformity and oppressive office design.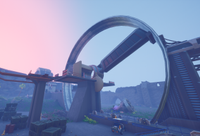 Halo: Last Resort CTF – 1002-3164-7517
An all-timer Halo 3 map recreated in Fortnite. Battle to capture the enemy flag just like you remember. The iconic wheel rests in the middle of the map, though it doesn't revolve, the beachside fortress, and plenty of flanking routes and launch pads.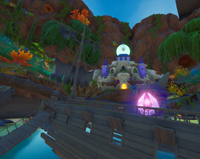 "Underwater" TDM – 3208-3291-1537
OK, it's not "underwater," but you'll definitely be shooting fish in a barrel on this 15v15 deathmatch map full of coral, a pirate ship, and a giant fish skull. I love how the circular shape of the map keeps things tactically interesting. Do you swim for the other side to get up close, or will you be sleeping with the fishes?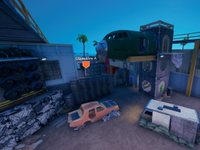 Call of Duty's Shoot House – 1794-5642-2805
Continuing the long tradition of COD maps getting remade in Fortnite, this Shoot House map is masterfully done. Everything feels properly scaled, all the usual lanes and cover is where you'd expect, and the loadout selection system is wonderfully generous. Even better, it's a Search and Destroy variant, so get planting those bombs if you want to win.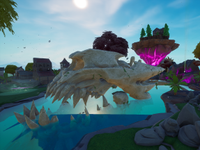 Skeleton Shores Mini Royale – 7448-9517-9989
A lot of custom battle royale maps end up feeling flat as a result of Fortnite's editing tools, but this map wisely gets around those restrictions by using floating islands, giant skulls, and other constructions that help keep things feeling fresh.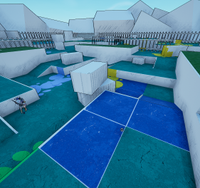 Color Splash – 3060-5550-3213
A riff on Splatoon, each team competes to cover more of the map with their side's color, all while exchanging gunfire. Randomized loadouts and the color mechanic keep things interesting, and encourage players to move about.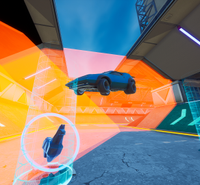 Chaotic Circuit – 4493-2917-7848
A tight and winding race track filled with bounce pads and other obstacles to absolutely annoy the heck out of your opponents. I especially love the shortcut that spawns a curved piece of track made of orange light that A) helps you take the next turn and B) blocks other racers.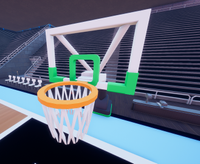 Fortnite Basketball – 3613-5135-9180
To my knowledge, the first basketball experience built in Fortnite. Teams of four compete to grab the ball (in this case, an orange fish) and then throw it into the appropriate basket. You know…basketball. But what I appreciate about this is it's very pick-up-and-play, and designed well around Fortnite's control scheme.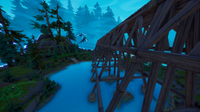 National Forest Zone War – 3926-0489-7280
The always solid zone war format, all in a lush, widespread pine forest. I love how the shifting of the playable zone forces you to wade through a lake, rocky cliffs, and under a huge train bridge.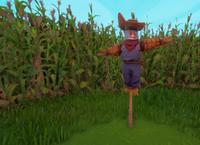 Cornfield Wars – 3926-0489-7280
I love how stealthy Fortnite's cornfields let you be. There's nothing like sneaking up behind someone like a Stephen King reject. This claustrophobic map forces you to get inventive (and a little lucky) to find opponents and loot chests in a cornfield.
Alliance Pro Fishing Island – 8300-5593-7822
Chill out with friends on this pleasant fishing getaway. Hook bigger and better fish as you go to unlock boats, items, and even a fight ring.
May 2021 Creative Codes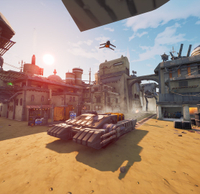 Star Wars' Jedha – 4619-1110-7182
Rest in pieces, Jedha. The sandy city from Rogue One played host to a cruel occupation by the Empire before being blown to bits by a fresh-faced Death Star. This gun game map is plenty beautiful, with an AT-ST walker, combat tanks, and one huge Star Destroyer.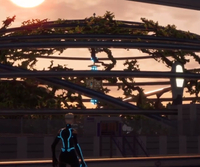 Biosphere (death match) – 2366-1066-2738
A simple but pretty post-apocalyptic arena for good old fashioned death match shooting with four classes to choose from. This dome is designed to look like humanity's last refuge from a global annihilation, with lots of metal structures overlaid with lush greenery.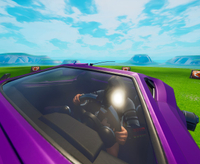 Drivers vs. Snipers – 0522-0531-7425
Now that Fortnite Creative has cars, it's time to marry them with one of the game's best modes. One side drives cars up ramps and bounce pads while the other tries to pick them off from afar. Simple, clean fun.
More great Creative Codes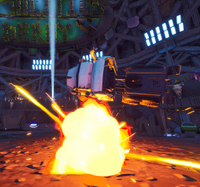 Demolition Derby – 6585-2275-1515
With Fortnite Creative getting access to some new cars, and off-road racing wheels getting added in, the potential for car destruction is limitless. This map throws you and friends into a circular arena of doom, with several trucks and cars to slam, explode, and fly through the air. Explosive barrels and bouncing tires help add a ridiculous flair to the destruction.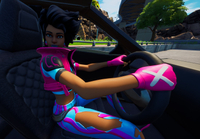 Parking Simulator – 1982-2979-6294
Why race cars when you could try the ultimate challenge: Parallel parking. Drive through 12 challenges without touching any walls and opening gates to hit the perfect parking spot. Can't be any worse than my actual driver's license exam.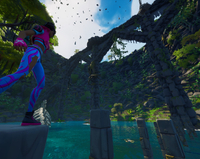 The Curse of Jonesy – 8530-7928-4892
This challenge map opens up on a stunningly huge lake, punctuated by a massive bridge that portals you to every challenge. You're tasked with completing four trials to escape this alternate dimension, which I guess Jonesy himself went through at one point.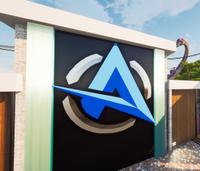 Ali-A's World – 6799-0061-6728
The inimitable Ali-A, who got his own Fortnite Icons Series skin not too long ago, now has his own world in Creative mode. The code above will take you to a hub with matchmaking portals for multiple kinds of Creative mode maps, including a gun game, a deathrun, and much more.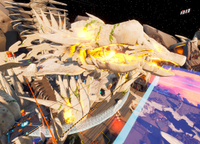 Defend the King – 7860-3454-9163
A really solid tower defense team match set on a lava-ridden mountain of dragon skeletons. Metal! Speaking of metal, there's a ton of item and crafting resources available, encouraging each team's king to stay involved in the action and invest in upgrades for their team.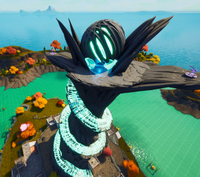 Season 6 Spire – KOTH – 0674-3630-6649
The centerpiece of season 6 is the towering Spire, an architectural feat from god-knows-what dimension. The surrounding town also provides for some solid looting. This KOTH map challenges you to take the top of the spire with any loot you can snatch, and given that it's a recreation of an actual Fortnite POI, the map layout is well-designed from the get go.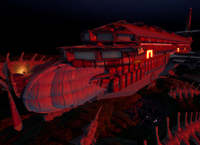 The Hungry Traveler – Infection – 6297-6676-9204
Hop aboard a shockingly huge airplane with numerous layers. One player, the Hungry, races to infect other players, who then in turn swarm any remaining survivors. Survivors must run out the clock while Hungry must eliminate all players. I really dig just how multi-layered this plane is, with countless corners to hide in or flee through.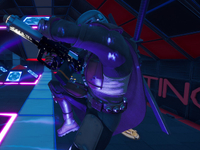 Squatingdog's Proxyball – 8640-6691-2975
The perfect blend of high-flying launchpads and geometry-based murder. Two teams grab a bunch of proximity grenade launchers and try to blast each other using all the crazy angles and holographic walls of this inventive arena.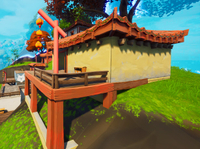 Fox Clan Zone Wars – 6130-6579-9491
A fun zone wars map with lots of verticality, a few good hiding spots, and a clean look that apes the ancient Asia aesthetic of the Fox Clan in the Fortnite universe.
Endless Reality – 8203-5239-7828
This adventure calls itself "possibly the longest" map in Fortnite, and I don't know about that, but it's a really well-designed trek through spooky towers, lush beaches, and more. If you dig environmental puzzles, this one will tickle those tastebuds.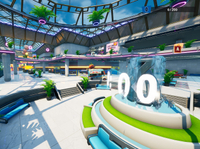 Mall Mania Update – 1896-0780-3687
A fan favorite point capture map, set in a bright and shiny mall. Remember those? You used to be able to play Time Crisis while waiting for your prom suit to get fitted. Teams can select one of several classes and duke it out, weaving through clothing stores and food courts to get the edge.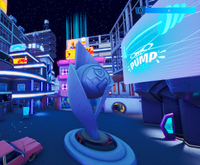 Shanghai Nights Deathmatch – 6436-9253-5847
I love this deathmatch map for its simple, multi-layered layout. It really helps sell the feeling you're slinking through a dense neon city, snatching kills from unseen corners and duking it out for vertical dominance.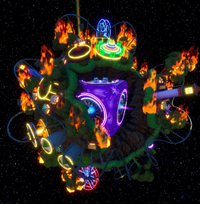 Astroworld: Gun Game – 6245-6940-8753
Astroworld: One Shot – 7780-7625-3160
Travis Scott's Astroworld performance in Fortnite took the world by storm, what with the whole kaiju-sized hip-hop artist and such, and now you can duel it out on the giant carnival planet that featured during the show. Low gravity makes getting around the caffeine nightmare a breeze.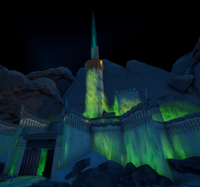 Minas Morgul hub – 1987-8912-9095
Okay, it's just a hub, but what a hub. Creator Kiiwiit3 has been recreating iconic Lord of the Rings locations in Fortnite for a while now, and it's always a treat to see what they can pull off. This piece of art beautifully recreates the putrid green light, the jagged jutting walls, and even a few smart nods to other LOTR characters like Shelob.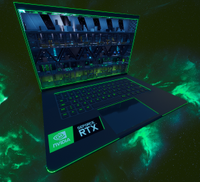 Nvidia Laptop Snipers vs. Runners – 9346-0375-1086
It's the classic snipers vs. runners format, but in a map built to look like Nvidia's GeForce RTX 30 Series laptop. Graphics so real, you'll practically feel the sniper bullet piercing your banana/llama avatar.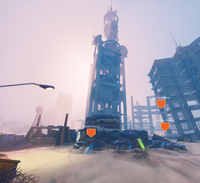 Bounty: Open World FFA – 4313-6966-0814
Using Fortnite season 5's new bounty mechanic, you'll hunt down other players while trying to avoid your own hunter. It's all set in a destroyed desert-ridden city, and the fog effects really help keep the hunt feeling tense when you can possibly lose your pursuer in the haze…or hide yourself before the kill.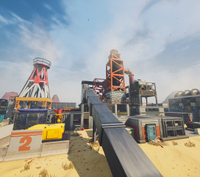 Rust (Call of Duty) Shotgun & Sniper FFA – 9204-8679-6270
Remaking COD maps in Fortnite is a popular thing to do, but I struggle to think of a map that more accurately recreates the exact, punishing layout of its source material than this. All the right corners and lanes you remember are there, and players brave enough to climb that vent are rewarded with a mythic sniper rifle.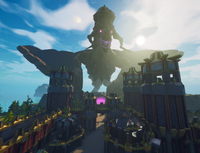 Halt the Dragon's Annihilation – 8758-3960-4621
If you love giant Zelda-esque adventures, this is easily one of the most impressive maps I've ever seen. Your home is destroyed by a giant dragon, which also threatens to destroy a kingdom of dwarves. You'll help them fulfill tasks to get all the tools to defeat the Dragon, which constantly looms over town.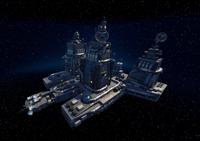 Nostromo – 2332-8471-0823 (Exterior) 9345-9243-4697 (Interior)
YouTuber Mustard Plays is celebrating the release of the xenomorph skin with an in-game recreation of the Nostromo, the ship that heroine Ripley finds herself struggling for survival on in the original film. Mustard built both a great exterior you can float around and ogle, as well as a dimly lit interior that lets you visit all the outer space workplace locations you remember, like the Nostromo lunch room or the "MOTHER" control room.
Rivendell Deathmatch – 9573-2939-5408
The Lord of the Rings films introduced us to some of the most beautiful fantasy locales in history, and chief among them is the elven city of Rivendell. This gorgeous map recreates the cliffside oasis, complete with white archways, luxurious gathering rooms, and probably some lembas bread.
Fortcraft Gun Game – 3423-7109-4953
A Fortnite and Minecraft crossover is pretty popular territory for Creative Mode users, and this gun game map keeps it simple, yet appealing with that classic voxel aesthetic. The overworld is littered with sheep and Creepers, while portals will send you to the underworld.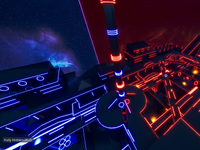 The Passage FFA Deathmatch – 9002-3430-3141
How appropriate, what with Fortnite just releasing a skin based on Tron, that we'd get this red vs. blue neon arena. You won't be riding light cycles, but you will be picking one of six loadouts and duking it out in a fun, multi-layered map with lots of unique little hiding spaces.
Llama Siege: Skyscraper
Another in the line of Rainbow Six Siege riffs, this map does a decent job of getting the basic layout of that game's Skyscraper map (to my newbie knowledge) and pitting two teams against one another. The attacking team can even transform into tiny camera bots to survey the area before jumping in, and rappel down the side of the building.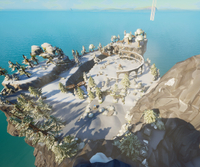 Twin Peaks One Shot – 2404-1136-3372
A dense and winding map that's sure to spark a few awesome sniper fights. A deep ravine lets you circle around enemies while a tall peak lets you survey the land.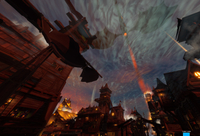 LOTR: Esgaroth – 1873-9855-8361
So the Hobbit movies may have been a disappointment, but I've got to admit that anything having to do with Smaug was pretty rad. That includes the semi-climactic destruction of Esgaroth, the lake town near the Lonely Mountain. This map recreates the central waterway into a sort-of-point capture map, where you're tasked with taking out 10 enemy installations while defending your own. If you like giant log buildings roaring with fire and chaos, you can't go wrong here.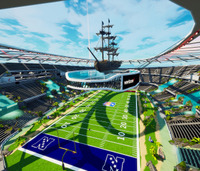 Maka Makes' Super Bowl Stadium (Codes Below)
Maka is one of Fortnite Creative's best designers – so much that he's gotten deals with major companies to create maps for major events like the Super Bowl. This huge, highly detailed, and incredibly imaginative map blends pirate ships with waterfalls to make the classiest football field you've ever seen. Even better, there's five mini-games you can play with friends.
Stadium Scramble: 5926-8650-7282
Coverage contest: 4673-6103-0680
Blitz course: 7004-2968-8491
Rush track: 0027-5143-8725
Shipwreck showdown: 5584-5652-5688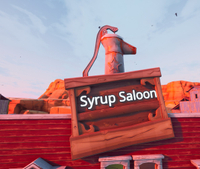 Pancake vs. Waffles – 2503-5483-2948
It's a good ol' fashioned wild west family feud. Two teams duke it out in a one-horse town, and locations contain specific guns. So you'll be racing to gain advantage in firepower and positioning.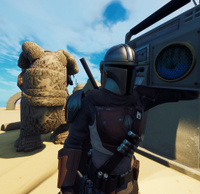 Mos Eisley Gun Game – 1337-8980-5503
A fairly basic map, but charming if you're a Star Wars lover. The mostly flat layout makes each gun game encounter feel a bit more like a wild west shootout than a wild frenzy. Peep the Slave I ship in the sky.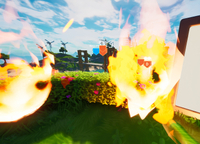 OVERTIME: Firefighter – 9586-7818-6104
You and three friends must don your firefighter hats to, what else, fight fires across four fun locations in a city seemingly besieged by random flames. Basically, you'll run around throwing Chug bottles at rapidly growing fires, trying to maintain a certain level of control, or rescue someone before they're consumed. You'll definitely need friends for this one since it's basically impossible alone.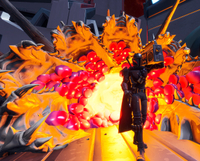 Infernal Gun Game (Update) – 4078-4302-7748
An update of an older map, this gun game arena provides plenty of tight turns and hidden corridors that'll make any combat encounter one to remember. Also, the portals are giant gaping chasms of alien teeth and flesh, and I just love that stuff.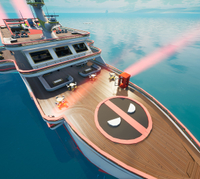 Deadpool Yacht Gun Game – 2677-6600-4527
This map recreates season 2's Deadpool Yacht in impressive detail. The winding hallways and multiple floors make for a great gun game map, offering up plenty of opportunities for ambushes and tense close-range fire fights. I love the little cat doors you have to crouch through that lead to what I assume is the play room of Kit, Meowscles son.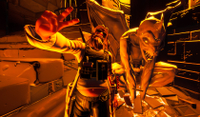 The Underworld Gun Game – 5719-7469-6732
Gun game is always a popular mode, so it all comes down to maps to make the difference. This dark subterranean arena mixes elements of gothic Doom architecture with wonderful lighting, or a lack thereof.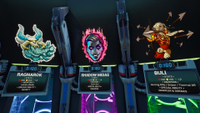 Titans: Rebirth – 1254-0562-2361
The Titans mode lets about 15 players choose from an impressively varied list of loadouts based on popular Fortnite characters, and then duke it out on a tight map that's quickly being consumed by the storm. Will you go jetpack and landmines, stealthy rift portals, rocket launchers galore, or one of the other options?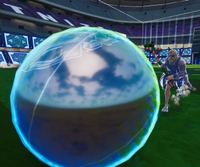 Soccer Tournament – 9012-6909-9710
Hey, Epic owns Rocket League these days, so why not imitate it in Fortnite? This tight map does its best to mimic the layout of your average Rocket League arena, including speed boost pads and launch pads along the walls to keep the ball rolling. Even better, you can cram four teams into a bracket challenge.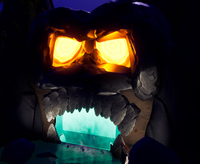 Zaneth Part 3 | 7177-3928-2938
The Zaneth series is one of the best fully fledged narrative adventures in Fortnite's creative mode. Part 3, which I guess is the final part, sees you jaunting through an island full of monsters and ancient evils. You'll encounter a number of solid puzzles, but for me, the real draw is seeing how Spazy64 uses Fortnite's tools to tell a coherent story.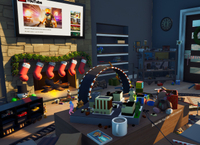 Giant Gifts | 3837-4047-8371
A masterfully designed honey-I-shrunk-the-kids home with lots of Christmas flair. With everything being giant-sized, it makes for a great setup for hide-and-seek games, like hiding behind a fireplace or in a choo-choo train under the tree.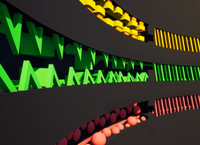 360 Snipers vs. Runners | 8211-7200-6960
It's the classic snipers vs. runners format, where one side must navigate an obstacle course and the other must blast them from afar, with a circular twist. Runners must navigate an evolving circle of colorfully designed walls and ramps, and snipers must contend with constantly having to switch up their angle of attack. It's the simple changes that often make the biggest impact.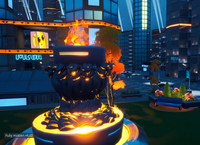 Futuristic City Chaos Gungame | 1305-7325-6391
A solid gungame format mixed with a brightly lit neon city. It's not quite Night City, but there's extra-long sightlines and plenty of cars to blow up that'll make you love dodging flying grenades.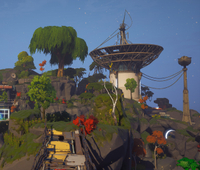 Aether | 9328-9988-6647
A densely interweaving gun game map where your weapon rarity actually decreases with each kill. Capture points pop up every once in a while to encourage players to gather in the same space. I love the way this map blends natural rock and moss formations with dilapidated tech, lending a very pleasing post-post-apocalypse vibe to it all.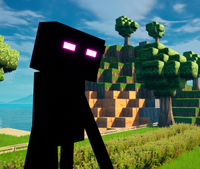 Minecraft 1v1 | 2544-4056-6706
Not quite a box fight, but definitely features the most famous boxes in video gaming: Minecraft blocks. You and a competitor will start off in the center of the map, race to grab an assortment of weapons, and then duke it out. You can make a tactical retreat to classic Minecraft areas, like — get this — a mine.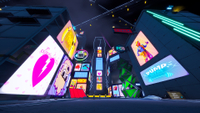 Less Buggy Than th…
Cybernite 2 | 5959-5776-7711
A significantly less buggy experience than the real Cyberpunk. Explore an impeccably designed bit of neon city streets trying to solve some puzzles, help out a few citizens, and avoid the watchful eyes of killer corpo bots.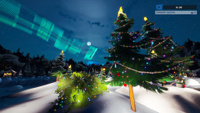 Snowball Oneshot | 9252-5527-1967
The classic oneshot deathmatch formula, but set on an icy lake littered with massive snowballs that do splash damage. Who doesn't love a little Yuletide sniping?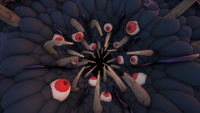 AAAAAAAAAAAAHHHHHH – 2820-0465-2363
AAAAAAAAAAAAAAAAAAAAAAAAAAAAAAAAAAAAAAAAAAHHHHHHH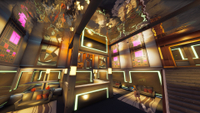 First-Person Gun Swap – 4048-7707-5260
One of the better first-person shooting experiences I've found in Fortnite. This dense and tightly wound arena wraps around a vault and provides a few surprising ways to get around your enemies, including hidey holes and vent shafts. The fact that weapons swap every 30 seconds just keeps things fresh.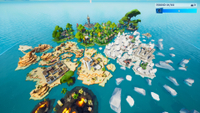 It's Another Mini BR! – 1730-6698-2927
Everybody loves a good biome, and this mini battle royale map has several of them, including icy tundras, dry deserts, ghoulish fortresses, and a dense campground forest. It's a little flat, like a lot of custom maps are forced to be, but I appreciate the diversity on display, and you'll have some good rounds with friends here. Even better, when I explored the map it felt like loot was plentiful, meaning everyone should have a fair shot at winning.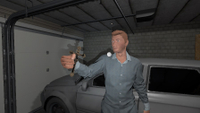 Phasmophobia – 1621-6784-4798
There's no shortage of "_______ but Fortnite" creations, and this remake of Phasmophobia's Tanglewood House definitely nails the original's spooky multiplayer vibes. A ton of flickering lights, ghostly apparitions, and clues all lead your team to investigate and guess which type of spirit you're truly dealing with. You know, I once saw a real jerk on Twitter (how unusual) who said you shouldn't include your Minecraft levels in a job application. That guy is an idiot, and stuff like this is why. It's a meaningful example of making something cool in a new set of tools and making it into a functioning system that elicits genuine feelings.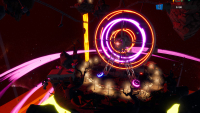 Gun game – Crazy Carnevil – 5763-3850-2682
Young me has a lot of fond memories of blasting evil clowns in CarnEvil, and while this Fortnite map isn't a rail shooter, it gives off plenty of spooky fair vibes. Even better, with low gravity and some well-placed bumpers, you can go skyrocketing to other floating platforms in the distance to gain the advantage. Eat it, Ludwig von Tokkentakker.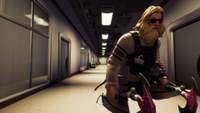 The Parable of Jonesy – 3417-6117-5923
We here at PC Gamer love us some Stanley Parable, with its hilariously omniscient narrator and ability to surprise us with reality-bending player choices, like some sort of Muppet caper gone wrong. This map rebuilds the basic concept of the Stanley Parable and puts a fresh Fortnite twist on it, resulting in eight possible endings.
X-Run by X-Labo – 8660-5683-2097
Normally I'd throw a deathrun on our dedicated deathrun code list, but this map from the incredible X-Labo group is so artistically fascinating (and a genuine thrill to play) that it has to go on our overall creative code list. The cyberpunk metropolis aesthetic is perfect for X-Labo's sense of design, with flying ships perched mid-air, towering skyscrapers surrounding you on all sides, and some genuinely inventive deathrun loops that will certainly frustrate you, but never unfairly. Stick around for the neat credits sequence at the end.
The Pit Zone Wars – 2534-1301-2113
Leave it to a battle royale game to make combat arenas that look like they're right out of… Battle Royale, or Hunger Games for the YA crowd. This tightly designed circle pit starts every contender at the edge of the circle, with launch pads further in and a tranquil pond at the center. Spy the tower in the center for some opportunities to snipe.
U.A.E. Traitor-Free Space Initiative (AKA Among Us) – 1346-8877-7603
Another installment in Among Us-inspired maps, you'll work with other players to sus out who is the "mimic." There's all the usual Among Us tropes, including a simple map and vents for the imposter to crawl through.
Other Fortnite Creative Codes
Dollhouse Snipers vs. Runners 2301-1112-2208
Titans – 9464-5951-7419
Tidal Wave Prop Hunt – 8312-0054-3731
World War Deathmatch – 0324-4789-8618
Spy Tycoon – 4730-5857-9174
MakaMakes' Mini BR Solo City – 8566-1472-7195
Goldeneye Temple – 4396-1463-7998
Bamboo Forest Gun Game – 2521-2490-2406
Golden Gate Bridge Zone Rush – 9312-1947-3701
The Vault – Gunfight – 6463-5005-6823
Grid Run – 0880-7742-8581
Aqua Drift Race – 4484-4147-7979
MakaMakes's Oasis – 3990-0084-4116
Bikini Bottom Gun Game – 3300-7669-9591
Inception Zone Wars – 1012-0492-6062
Galaxy Flint Wars – 6064-0690-4416
Trials of Zaneth – 9078-3524-9057
Time Twist – Gun Game – 5918-7034-6151
Futuristic Factory – Gun Game – 8443-3453-8209
Rainbow Six Siege House Map Recreation – 9315-3255-7086
Gun Game – Vacant – 3939-0057-1674
This ridiculous castle – 6581-3124-9021
The Avengers Helicarrier – 9763-8388-5095
Silhouette Prop Hunt – 5176-4146-5073
Complete Destruction Royale – 8000-8899-6833
A Damn Star Destroyer – 1653-9066-2637
The Neighbor Remastered – 1675-1520-8935
An Entire Dang Airport – 6037-9905-6392
10Kill Sniper – 0377-1286-7849
Fortnite Outlast Recreation – 8752-7425-3922
Overwatch Black Forest Map – Gun Fight – 9546-5724-7030
Counter-Strike's Dust 2 by Team Evolve – Random Teams: 9908-4675-7557 Custom Teams: 8784-9694-5171
Miniature Paris – 7593-6430-3199
Rainbow Six Siege Yacht Map Bomb Hunt – 2996-9373-3174
Minas Tirith From The Lord of the Rings – 1048-3487-4391
Illusion Hotel: Gun Game – 4849-7779-3845
The Cathedral of Santiago de Compostela – 6359-5458-5318
Paradise Highway Prop Hunt – 8782-6603-2109
One Shot Switch: Trickshot Arena – 1001-7293-0182
The house from Parasite – 4221-6398-3543
Pocket Racers: Modern House – 3683-4531-3616
Fall Guys Fortnite (but better) – 3958-4574-1075
Miyazaki's Castle in the Sky – 0130-7403-6429
The Creekwood Tracks – 0043-5459-2704
AMD's Battle Arena (by MakaMakes) – 8651-9841-1639
Super Mario Sunshine's Delfino Plaza – 6892-7135-6628
Endless Dunes – 0433-5352-8915
Fortnite Kart – 7340-1511-8471
Nvidia's ray tracing treasure hunt – 9189-0518-5408
The Sheikh Zayed Mosque – 0796-9126-3250
A Hobbit Hole – 2341-0879-7382
Harry Potter's Diagon Alley – 7666-3772-4703
The Sheikh Zayed Mosque – 0796-9126-3250
Storm Simulator One-Shot – 1621-7413-2076
Marco Polo in Venice: Hide and Seek – 6263-5818-8225
Freaky Flights V2 – 4839-4130-3813
Mystic Mayhem Royale – 0980-2695-9956