Backing up data is not really fun or glamorous, but it's one of those things you will kick yourself for not doing if disaster strikes. So why not be prepared? You can get started with WD's 12TB Elements, an external hard drive that is on sale for $179.99 at B&H Photo today.
That's $70 off its normal price (the sale price is applied after adding the item to your card). The timely discount arrives just in time for World Backup Day. While not a valid excuse to skip work, you can celebrate it by finally committing to backing up your photos, videos, important documents, game save files, and anything else you deem important.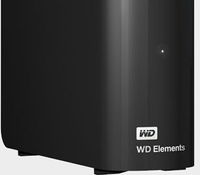 Don't wait until i…
WD 12TB Elements USB 3.0 External Hard Drive | $249.99 $179.99 at B&H Photo (save $70)
Hindsight is 20/20, but don't wait for a storage catastrophe to strike before realizing how important it is to regularly back up your data. WD's 12TB Elements offers bulk, portable storage at a cheap price.
Being an external HDD that connects via USB, WD's Elements box is also handy for backing up every PC in your household, or even multiple locations (it's portable, after all). It's a USB 3.1 Gen 1 connection, though this is more about capacity than speed (it leverages a 5400 RPM HDD).
Note that backup software is not included. If you want automated backups, something like WD's My Passport, one of the best external hard drives, is more suitable.
It is plug-and-play, though, so all you have to do is plug it into your PC and begin manually moving files over. Then rinse and repeat for any other PCs you want to back up.