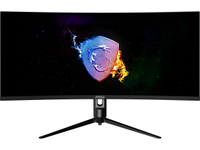 MSI MAG342CQPV | 34-inch | 100Hz | 3440 x 1440 | VA | $329.99 $279.99 at Newegg (save $50)
A 34-inch ultrawide 1440p high-refresh experience for well under $200? Count us in. This is a proper gaming monitor from a big brand and a lot of monitor for the money. OK, it's only a middling100Hz rather than 144Hz. And the 250 nit brightness is pretty modest. But the price point is awfully compelling. Use promo code APR447 for the final $20 off.
It's an older model, sir, but it checks out. We give you the MSI MAG342CQPV, all 34 inches of it.
With that 21:9 ultrawide aspect ratio and 3440 by 1440 native resolution, this monitor arguably nails the current sweet spot for gaming monitors. And it's yours for $280 from Newegg.
Of course, at this lowly price point, you're not going to get an absolute cutting-edge experience. This is a high-refresh monitor. But it's 100Hz rather than 144Hz. It also uses a VA rather than IPS panel.
The upside is strong inherent contrast, with the panel rated at 3000:1. That's far better than any IPS screen. The downside with VA is typically worse response, though MSI rates this screen at 1ms by the MPRT metric. So, it should be around 2ms by the the more demanding GtG measure.
If there is a spec that's worrisome, it's the modest 250 nits peak brightness. But again, at this price point, something has to give. It's worth noting, however, that the MSI MAG342CQPV is an actual gaming model, not a generic monitor.
There are a fair few 34-inch ultrawide 100Hz panels around that aren't designed explicitly for gaming. Very likely, less effort has gone into those models when it comes to areas like latency performance and OSD menu options.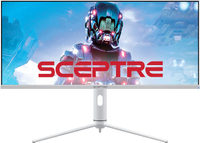 Sceptre E345B | 34-inch | 144Hz | 3440 x 1440 | IPS | $299.98 at Amazon
Fancy an upgrade to IPS and 144Hz while still keeping the cost (just) under $300? Well, how about the Sceptre E345B? As a lesser brand quality control is somewhat of an unknown quantity. But this monitor typically sells for over $350 and at this price point it's pretty hard to ignore.
If you prefer IPS and 144Hz, well, that's going to cost you from a big brand. However, you do have the option of a lesser brand. The Sceptre E345B gives you all that—34-inch ultrawide IPS at 144Hz—for just under $300 from Amazon.
It's probably a bit more of a risk in terms of quality control. It's also sold and shipped by a third party, not Amazon, whereas the MSI is a bigger, better known brand and it's sold and shipped by Newegg itself. So, there are multiple layers of reassurance you don't necessarily get with the Sceptre option.
Overall, we'd lean towards the MSI with the proviso that it may not be suitable if your gaming rig resides somewhere with really high levels of ambient light. For your more typical low-light gaming den, the 250 nits should be fine.