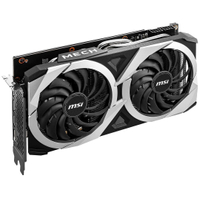 MSI Mech Radeon RX 6700 XT | 2,560 stream processors | 12GB GDDR6 | 2,620MHz boost | $369.99 $349.99 at Newegg (save $20 with code: BDNW64)
The MSI Mech version of the RX 6700 XT comes with a tried and tested cooler. It's a dual-fan design, which is suitable for a graphics card of this standing. You also benefit from AMD's Raise the Game bundle with this particular Newegg listing, which hands you two games for free: Dead Island 2 and The Callisto Protocol.
Graphics card pricing had a massive shake-up late last year. Mostly in the entry-level market, which admittedly matters to more people than the lofty $1,000+ ultra-enthusiast GPUs. In that shake-up, AMD's RX 6000-series graphics card cost came crashing down, giving some fairly average performers at launch a whole new lease on life.
So much so, in fact, that the AMD Radeon RX 6700 XT is now cheaper than Nvidia's RTX 3060. You can pick up the red team's RX 6700 XT for $350 on Newegg, right now, which is more than $100 under MSRP. That's a card that's equivalent in gaming performance to an RTX 3060 Ti, for less than the price of its cheaper sibling, the RTX 3060.
The RX 6700 XT even had a sniff at the RTX 3070 in some games during our initial testing back at launch. In such games favourable to AMD's silicon, like Shadow of the Tomb Raider, the card actually was noted to exceed the RTX 3070's performance at 1080p.
The point being the RX 6700 XT remains a great pick for a mid-range gaming PC, and this is the same level of discount as we saw during Black Friday last year. And make no mistake it's a completely capable graphics card in 2023. It runs on AMD's RDNA 2 architecture, which delivered major uplifts across the board for AMD's GPUs, including adding support for real-time ray tracing. Admittedly the RX 6700 XT can't always spare the performance to turn these demanding graphics settings on, but it's nice to have the option. It also comes with 12GB of GDDR6 memory, which is more than an RTX 3070.
If you can't give up on the green dream and need an Nvidia graphics card in your machine, I'd still recommend picking up an RTX 3060 Ti right now. The RTX 3060 just isn't the performer we'd want it to be at its current price of around $360, so bagging the RTX 3060 Ti for $20–$40 more is much easier to recommend.
Your next upgrade
Best CPU for gaming: The top chips from Intel and AMD
Best gaming motherboard: The right boards
Best graphics card: Your perfect pixel-pusher awaits
Best SSD for gaming: Get into the game ahead of the rest
Though the fact remains that Nvidia's mid-range and budget RTX 30-series cards are failing to offer value for money versus AMD's price-dropped RX 6000-series right now. So far we've not seen much of a rebuttal from Nvidia, either. I mean, it still rules the roost with a significant chunk of market share—no doubt heaps of which will come pre-installed in prebuilt PCs.
Nvidia seemingly intends to keep the RTX 30-series around for a little longer, despite the recent launch of the RTX 40-series. The RTX 4070 Ti is the cheapest from Nvidia's latest generation, and it's a $799 card. AMD is in a similar boat, only launching the RX 7900 XTX and RX 7900 XT in the RX 7000-series so far. On the mobile side, both AMD and Nvidia are close to launching cheaper options, so here's hoping their desktop counterparts aren't far behind.
If you don't want to wait around for all that to kick off, the RX 6700 XT gets my vote as the mid-range graphics card to buy in the meantime.