Intel is betting big on its next-gen Arc graphics. So says a report from Taiwan, where the chips will be made by TSMC. However, with a launch date of the second half of next year, the new GPUs are said to be arriving later than previously reported.
According to Commercial Times (via Tom's Hardware), Intel has placed "large orders" with TSMC to produce its next two generations of Arc gaming graphics chips, codenamed Battlemage and Celestial respectively.
Sadly, Commercial Times doesn't quantify exactly how large those orders from TSMC will be, only saying that, "Intel is optimistic that e-sports and AI and other related applications will drive strong demand for GPUs."
Battlemage will reportedly be built on TSMC's 4nm node, while Celestial will use TSMC's new 3nm lithography. TSMC currently manufactures Intel's existing generation of Intel Arc graphics, codenamed Alchemist and including the Intel Arc A770 board, and on its 7nm node.
As for those launch dates, Commercial Times reckons Battlemage is going for the second half of 2024 and Celestial won't appear until the second half of 2026.
That somewhat contradicts a purportedly leaked slide from Intel dating from late last year that scheduled Battlemage for the beginning of 2024.
For sure, early next year would be far preferable. Current expectations for Battlemage in terms of performance of the fastest variant clock in around RTX 4070 Ti or RTX 4080 levels. If that happens early next year, Intel could do some real damage. But if Battlemage doesn't appear until later in 2024, that could be tricky.
Almost certainly, Nvidia and AMD will be rolling out yet another new generation GPUs themselves in late 2024. So that RTX 4070 Ti performance target will suddenly turn into RTX 5070 Ti and suddenly Intel could find itself miles off the pace.
After all, Nvidia's next-gen RTX 50-series (supposedly called Blackwell but it's very early days) is expected to be built on TSMC 3nm technology and will presumably offer at least some performance uplift over the existing RTX 40-series.
On the other hand, a chip with RTX 4070 Ti or 4080 performance will still be a pretty quick GPU, even late next year. So priced right, it could be pretty compelling.
We'd still rather see Battlemage arrive sooner rather than later. A launch late in 2024 would align it with the Nvidia RTX 50-series and AMD's next-gen GPUs, likely to be branded Radeon RX 8000-series.
Those graphics chipsets will make for even tougher competition whereas a launch earlier in 2024 would give Battlemage a chance to have an impact on the mid-range to upper mid-range GPU market. Given how painful GPU prices remain, it would be awfully nice if Intel to add a third vector of competition into the market, that's for sure.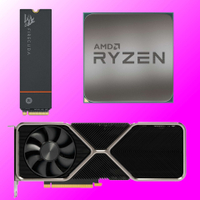 Best CPU for gaming: Top chips from Intel and AMD
Best gaming motherboard: The right boards
Best graphics card: Your perfect pixel-pusher awaits Best SSD for gaming: Get into the game first